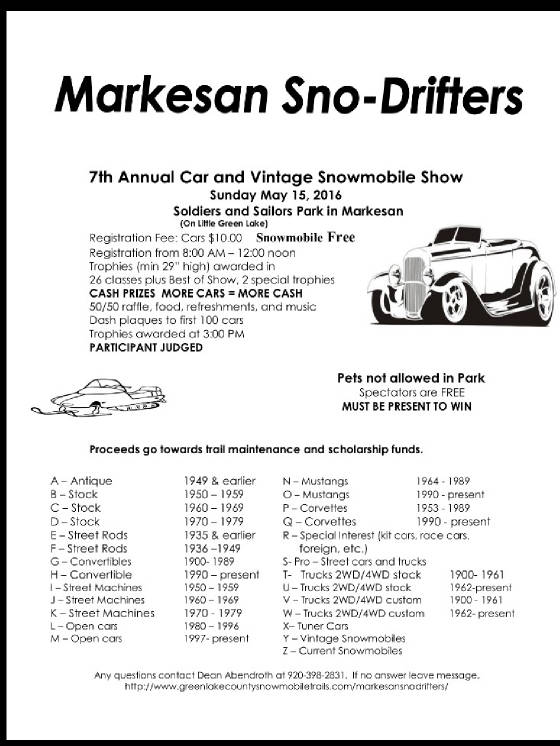 Come ride the scenic trails of south central Wisconsin, in Green Lake County. The four clubs of the Green Lake Co. Association of Snowmobile Clubs maintain & groom approximately 150 miles of scenic trails, with a vast variety of trails ranging from woods, meadows, marsh, & fields. Although snow conditions can be varied, when conditions are good, our trails are great !
FOR UP-TO-THE-MINUTE TRAIL STATUS,

CALL: 920-294-3220

for a recorded message of Green Lake County trails.
From the Desk of Sheriff Mark A. Podoll

Topic: 2015 Snowmobile Season

While maybe a little chilly outside lately, winter has arrived. I've noticed some snowmobiles on trailers and listen to a few who have the "itch" to get riding. ...
Concerning the up-coming season, I'd like to ask for some cooperation from all the snowmobile enthusiasts and will sum up the complaints and concerns that the County Snowmobile Clubs, Warden Nate Ackerman, and I have:

1) Safety. Goes without saying, yet, speed and alcohol claim lives and cause injuries to riders in Wisconsin every year. Remember, you can be arrested for OWI on a snowmobile. Also, the speed limit at night is 55 mph. Obeying posted signs and using good common sense will bring you back safely.
2) Trespass. Your local snowmobile clubs work long hours clearing, marking, and securing permission for trails. If you leave the trail, you're on your own and subject to a $295.00 trespass citation.
3) Registration. Make sure you are registered for the season. Don't spoil an outing with family or friends by neglecting to be legal.
4) Courtesy. Be courteous to other riders and their abilities. Also, to private property owners and what they have invested in their land.
5) Wildlife. Consider that Deer, Turkey, and other wildlife are at risk in the cold and snow. Please don't use your machine to harass wildlife.

As in years past, look for Club Snowmobile Patrol officials to be paired with Deputy Staff. I'm certain Warden Ackerman will also be patrolling with us. By doing us a favor in addressing the above issues, you'll be helping me, help you and your sport.

Ride Safe,

Mark A. Podoll, Sheriff, Green Lake County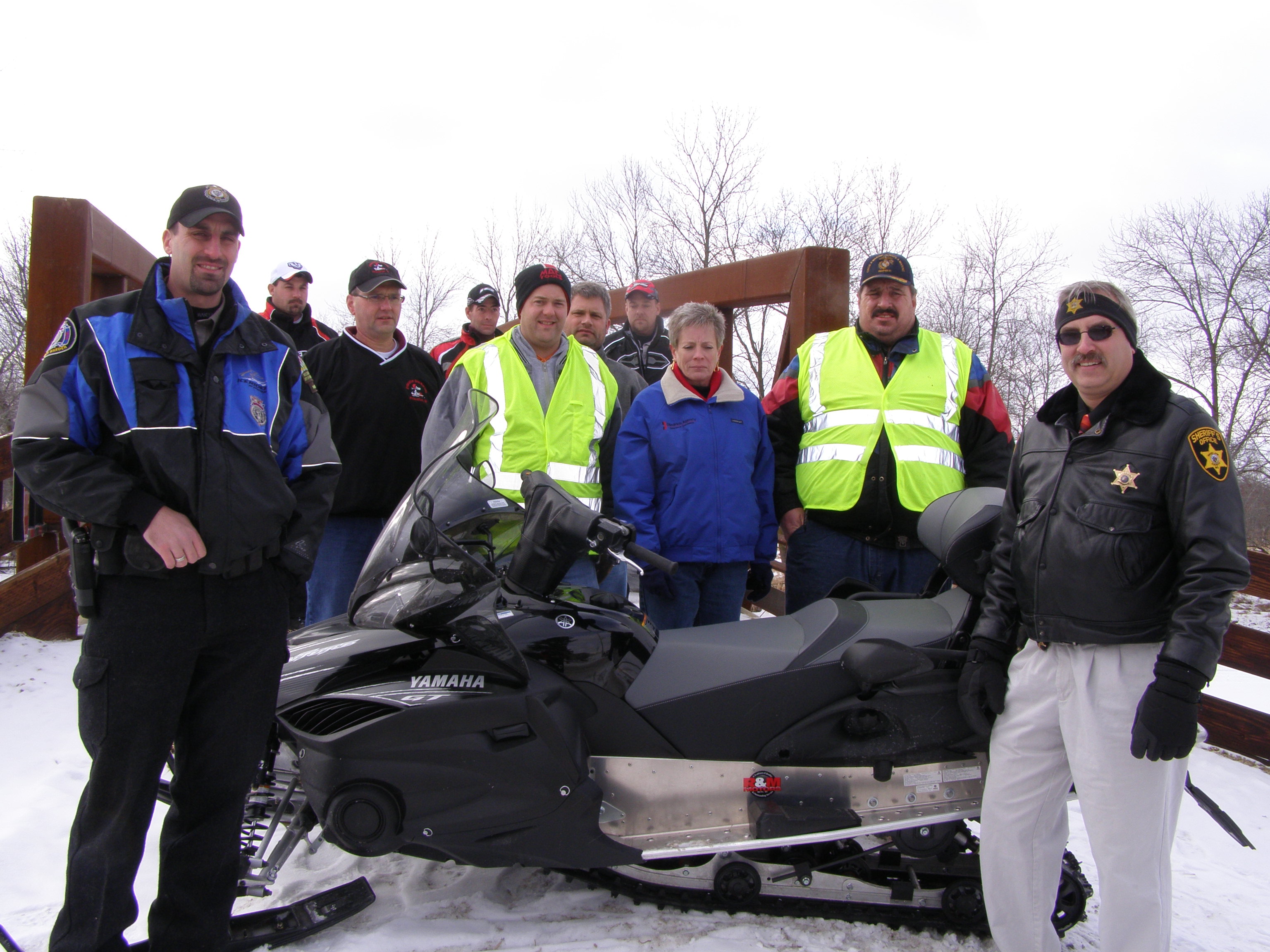 Safety on the Trails
Photo Submitted to Berlin Journal
ON FRIDAY, JANUARY 7, representatives of all Green Lake County snowmobile clubs, AWSC members, and local officials met to implement a combined effort involving club trail visibility. County snowmobile clubs will be working directly with law enforcement to educate, promote safety, report trespass and other violations while upon the trail system. Pictured from the left are DNR Warden Nate Ackerman, Jay Held, Travis Kastenschmidt, Laura Gigstead, Ken Markham, and Sheriff Mark Podoll.

"Click Here" to go to the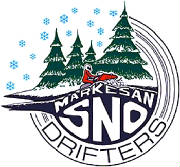 Markesan Sno-Drifters Website
Markesan Sno-Drifter Trail Status
Click on our insignia to the right for current grooming status.
"Click Here" to go to the
Terrace Sno-Streakers Website
Terrace Sno-Streakers Trail Status
Call Hotline Number
Thank You.
"Click Here" to go to the
Princeton Sno-Barons Website
2/7/16
Princeton Sno-Barons Trails are - CLOSED.
Please join a club where you ride. A $25 family membership is such a low cost way to help. Stop in at FOX RIVER AUTO and join us today!
Use the hotline and make sure to support a club where you ride - our sport and the trail system depend on YOU to become a club member!
Think Snow*** and lots of it!
"Click Here" to go to the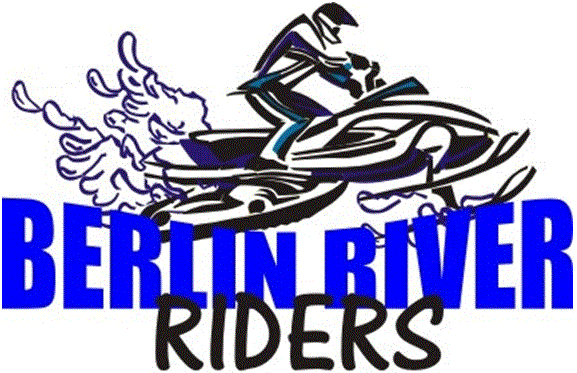 Berlin River Riders Website
Berlin River Riders Trail Status :
FYI: Snowmobile clubs do not distribute trail passes! SEE ABOVE! Once membership dues are received it takes a few days for AWSC to process, return cards to the clubs, and then you receive them in the mail. It can also take a few days for trail passes to be processed. Plan ahead!
Berlin River Riders will meet on September 15, at 6:30 p.m. at the club grounds.
Come and join us!